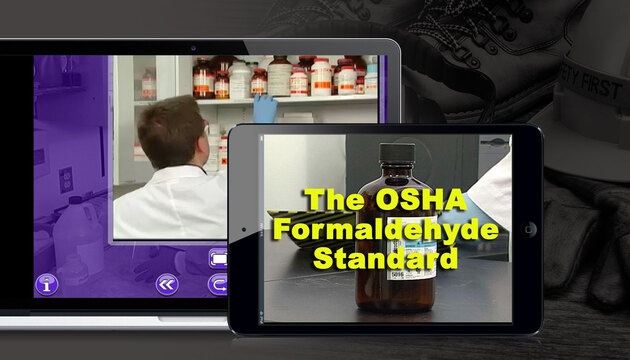 OSHA Formaldehyde Standard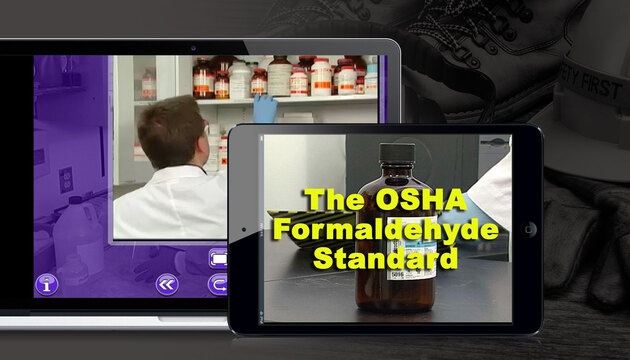 Description
MARCOM's interactive course on The OSHA Formaldehyde Standard provides training that is required by this standard, and focuses on the rules and procedures that the standard establishes for working with this potentially dangerous chemical. While Formaldehyde is used in many laboratory operations, it can be a serious health hazard.
The results of mishandling Formaldehyde can be serious. They can range from the short-term discomfort associated with minor burns or skin irritation... to chronic effects from a lifetime of overexposure. Areas covered in the course include potential health hazards, testing for Permissible Exposure Limits (PEL), labeling and Material Safety Data Sheets, hoods and other ventilation systems, personal protective equipment, spill clean-up and decontamination procedures, first aid, the medical surveillance plan, and more.
Using a powerful combination of audio, full-motion video, text and colorful graphics, this course provides the most cost-effective safety and regulatory compliance training available today. The course is divided into a number of logical sections so information is easily understood... and retained.
MARCOM's online courses come with a comprehensive and easy-to-use learning management system (LMS). With this system you can establish your own training environment by setting registration requirements and defining log-ins, create curricula for various positions and departments, set up tests... and more.
The system also tracks all employee activity and performance, including, which courses employees have taken, when the courses were taken, test scores, and other important data. This information can be accessed online as well as printed in hardcopy form.
Course Outline
This course discusses the OSHA Formaldehyde Standard and how to work safely with formaldehyde in laboratory environments. Upon completing the course, employees should: - Understand the short and long-term health problems associated with formaldehyde overexposure. - Know how to protect themselves from formaldehyde overexposure. - Understand how to deal with formaldehyde-related emergencies.